Extensometers for materials testing
Automation for Model 3549 Furnace Extensometers – Model FASTact
Linear automation system for hands-free use of model 3549 extensometers. Enables automatic specimen mounting and retraction. Saves time and simplifies extensometer use.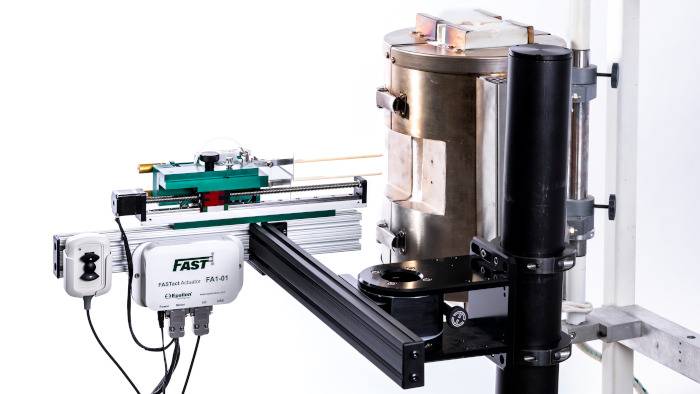 FASTact enables hands-free testing with Epsilon's model 3549 high-temperature extensometers. Mounting the extensometer on the specimen and retracting it after the test can be automated two ways:
Fully automatic when controlled by the testing machine's software
Semi-automatic with:

FAST software – point and click
FAST handset (optional) – press a button
Operators never have to touch the extensometer or its mounting after the initial setup. FASTact retains all of the model 3549's features: gauge length is set automatically, optional soak before testing (with the extensometer's rods near, but not touching the specimen), adjustable contact force, and capability to run in strain control.
FASTact consists of a linear automation actuator, interface electronics, software with a simple command interface, and an optional handset.
Reduces cycle time.
Reduces operator training, skill, and experience requirements.
Fully automated extensometer mounting on the specimen, soak/hold (optional), and retraction after the test when FASTact is integrated using the testing machine's software (automation options depend on the specific testing machine).
Semi-automated extensometer mounting, soaking and retraction using FASTact's included software or the optional handset.
Never touch the extensometer again after it is set up for the grips and specimen length.
"Soft landing" feature slows down the actuator just before touching the specimen for the most precise, repeatable extensometer performance.
Automatically detects specimen contact and stops at a preset contact force (user-selectable).
Compatible with using the model 3549 extensometer in strain control.
Programmable settings:

Contact force
Mounting speed
Deceleration speed
Soak position
Mounting Time: <2 seconds typical; user-selectable in the range of 2 – 8 seconds
Max. Actuator Travel: 250 mm (10 inches)
Automation Command Interfaces:
Software via USB serial interface: may be high-level executable commands, automatically generated using FASTact's integration wizard, or low-level serial commands (USB connector)
Digital I/O: 0-5V or 0-24V, minimum current = 1.8 mA (DB9 connector)
Switch (DB9 connector)
Mechanical Interface:
Top: accepts all Epsilon model 3549 extensometers
Bottom: designed to mount on a flat, rectangular surface with a T-slot (such as Epsilon's MS-xx series of mounting brackets) or threaded holes
USB Cable: 1.8 m (6 ft.) long, included
Power Supply: 100-240 VAC, 50-60 Hz, 30W; specify plug type when ordering
Host PC: Windows 10; one USB Type-A port
FASTact is an accessory for model 3549 extensometers that may be purchased with a new extensometer or retrofitted to an existing model 3549 with Epsilon load frame mounting.