Extensometers for materials testing
High Temperature Self-Supporting Furnace Extensometers (1200 °C) – Model 3448
Designed for use with furnaces and induction heating systems, these extensometers use Epsilon's exclusive, self-supporting design. A wide range of options cover most testing applications.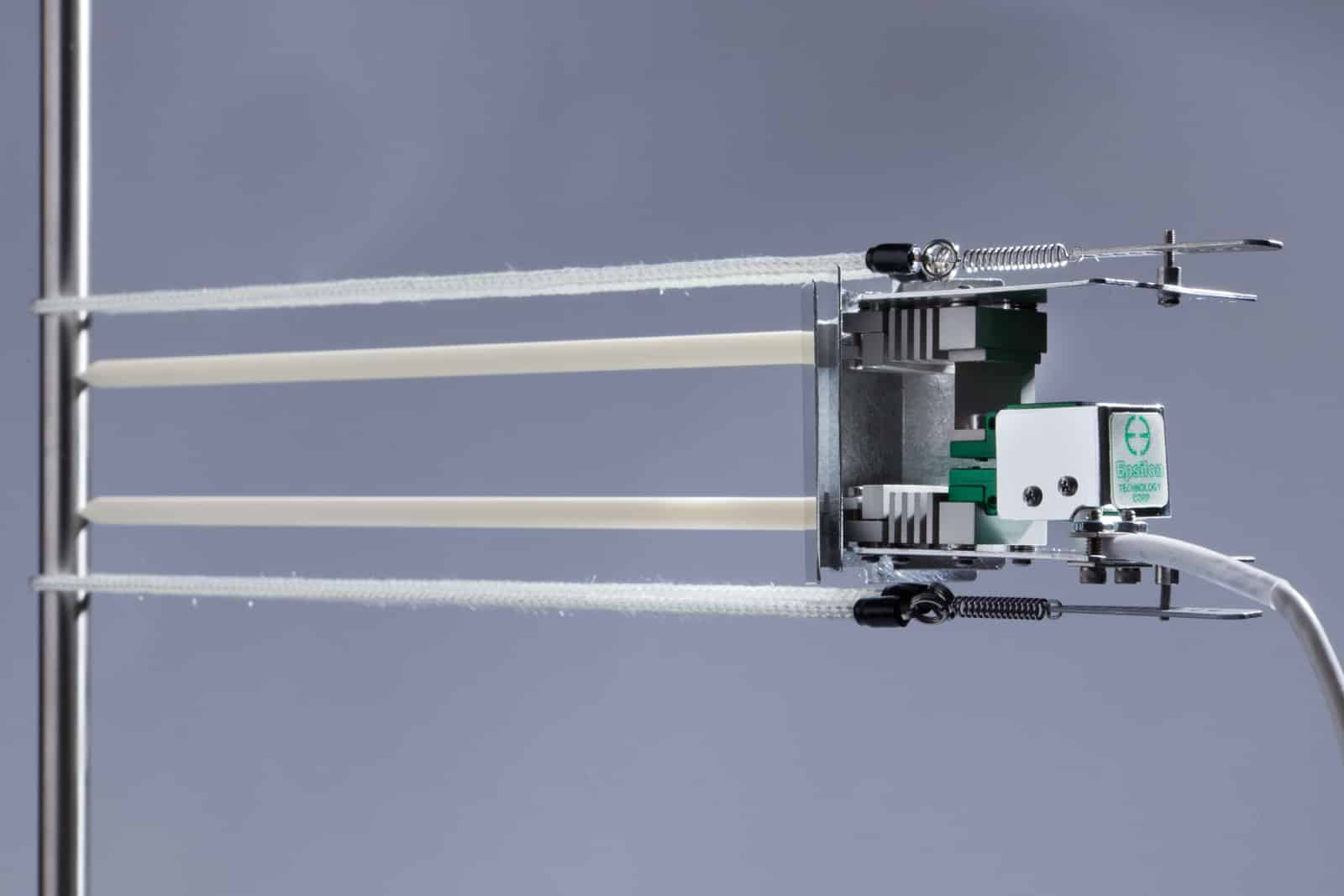 Epsilon brought the first self-supporting, axial furnace extensometer using ceramic fiber cords to market in 1995.
Epsilon's engineers performed evaluations of cord positions in both the standard ceramic fiber cord attachments (elevated above the ceramic rods) and the induction heater version (rods and fiber cord attachments parallel to one another), and found the performance of each to be identical.
Operation of these, and all of epsilon's extensometers, are verified to either ASTM E83 or ISO 9513 standards using in-house calibration systems that are calibrated with epsilon's laser interferometer system.
WITH EPSILON'S 20+ YEAR HISTORY OF SERVICE
to the materials testing community, you know we will be there to stand behind our products when your critical application requires it.
Epsilon developed this unique high temperature extensometer for testing metals, ceramics, and composites at the high temperatures produced by furnaces and induction heating systems. A combination of features make these extensometers easier to use and better in performance than other similar high temperature extensometers.
The units are held on the specimen by light, flexible ceramic fiber cords. These make the extensometer self-supporting on the specimen. No furnace mounting brackets are required. The side load on the test sample is greatly reduced because of the self-supporting design and light weight of the sensor. Most materials testing furnaces with a side cut-out for an extensometer will readily accept a Model 3448. For induction heating systems, a different ceramic cord placement allows the extensometer to easily pass between the coils.
The combination of radiant heat shields and convection cooling fins allow this model to be used at specimen temperatures up to 1200 °C (2200 °F) without any cooling. An optional tiny air fan does enhance stability at the highest temperatures and is recommended for the highest accuracy and for tests with small elongations. The fan comes with a magnetic base for support so it can be mounted at any convenient location near the extensometer. Fan cooling is not generally needed for induction heated systems. High purity alumina ceramic rods are used. These are available in lengths as required to fit your furnace. A spare set is included with every extensometer. Specify chisel, vee chisel or conical contact points as desired.
Most units operate equally well in tension and compression. Tensile, compression and cyclic fatigue tests can all be performed with a single unit. For testing in strain control or to get the highest performance during cyclic fatigue tests, models 3549 or 7650A are recommended.
For vacuum furnaces, special models are available. Epsilon can also provide a radiant heat transfer cooled version. This requires that the extensometer module be surrounded by a water cooled enclosure with a front slot for the ceramic rods.
May be left on through specimen failure.
Full bridge, 350 ohm strain gaged design for compatibility with nearly any test system.
Mechanical overtravel stops in both directions.
All units come with high purity alumina ceramic rods.
Mounts with flexible ceramic fiber cords. Very simple to install, this Epsilon exclusive design eliminates the need for external support brackets. Low contact force does not vary during testing like some externally supported extensometers.
Use without cooling to 1200 °C (2200 °F). Optional small fan improves stability at highest temperatures.
Versions available for use in vacuum and controlled atmospheres. Radiant heat transfer cooled versions are available for these applications.
May be used on nearly any furnace with side entry cut-out for extensometers. Alternate configuration available for insertion between coils of induction heaters.
Includes the Epsilon Shunt Calibration System for on-site electrical calibration.
Rugged, dual flexure design for strength and improved performance.
Includes high quality foam lined case, a spare set of ceramic rods, and eight ceramic fiber cords.
Excitation: 5 to 10 VDC recommended, 12 VDC or VAC max.
Output: 2 to 4 mV/V, nominal, depending on model
Accuracy: Standard configurations meet ASTM E83 class B-1 and ISO 9513 class 0,5 requirements for accuracy. A test certificate is included. Rod lengths >250 mm (10″) can affect the final class rating.
Linearity: ≤0.15% of full scale measuring range, depending on model
Temperature Range: Ambient to 1200 °C max (2200 °F), all versions
Cable: Integral, ultra-flexible cable, 2.5 m (8 ft) standard
Contact Force: Adjustable, approximately 200 g depending on configuration
Operating Force: 10 to 20 g typical

Air cooling fan: add suffix -AC
Ceramic cord orientation for furnaces or induction heaters (specify)

Connectors to interface to nearly any brand of test equipment

Rod tips can be straight chisels, conical tips or vee chisels; specify when ordering
Ordering Information
Click table options to configure
| mm or inches | # | |
| --- | --- | --- |
| 10.0 mm | -010M | 010M |
| 25.0 mm | -025M | 025M |
| 50.0 mm | -050M | 050M |
| 0.500 in | -0050 | 0050 |
| 1.000 in | -0100 | 0100 |
| 2.000 in | -0200 | 0200 |
| % strain | # | |
| --- | --- | --- |
| ±5% | -005¹ | 005 |
| ±10% | -010 | 010 |
| +20%/-10% | -020 | 020 |
| +50%/-10% | -050 | 050 |
| +100%/-10% | -100² | 100 |
Model Number:  
3448
–
_ _ _ _
–
_ _ _ _
Model 3448 Available Versions: Any combination of gauge length and measuring range listed above is available, except as noted. Ceramic rod lengths are made to fit furnaces as required. Please provide furnace dimensions at the time of order. Other configurations may be available with special order; please contact Epsilon to discuss your requirements.
¹For 10 mm and 0.5 inch gauge lengths, the ±5% strain range is only available with short ceramic rods.
²Not available in 50 mm or 2.0 inch gauge lengths.
Example: 3448-0100-020: 1.000 inch gauge length, +20%/-10% measuring range, room temperature to 1200 °C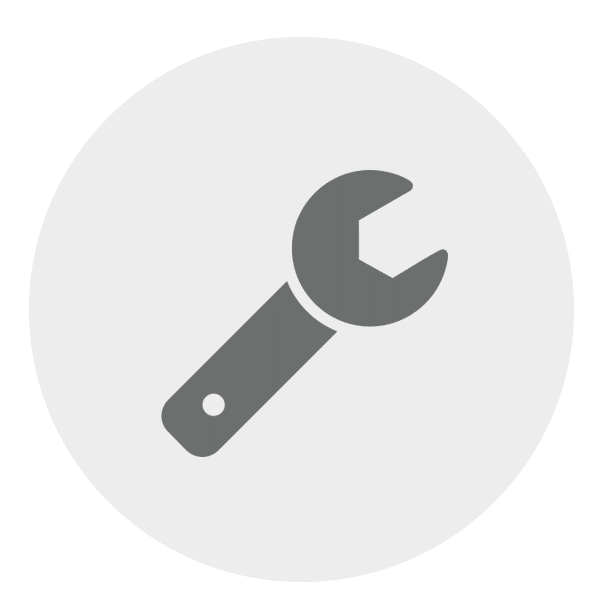 If your unit is in need of service, calibration or repair, initiate the RMA process with us and we will be happy to assist.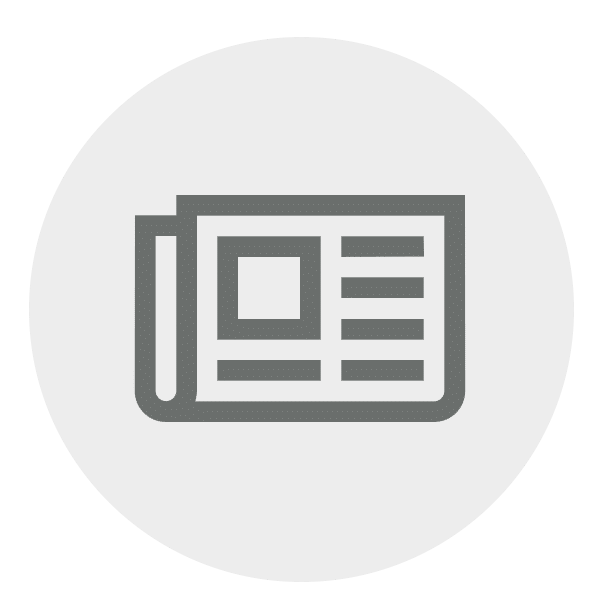 Sign up for our newsletter to get the most up-to-date information on products and services.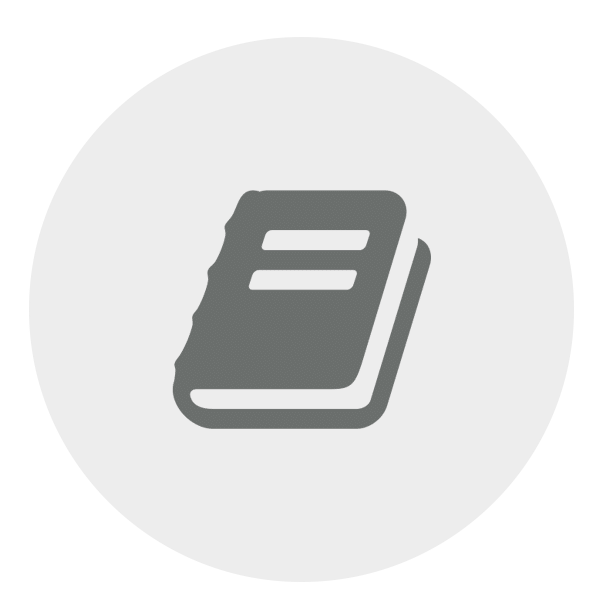 Our 2022 Extensometer Catalog, Version 110 is now available! Not finding something you're looking for? Ask us about a custom quote.